Choosing The Right Nasal Spray For Your Kids
Choosing The Right Nasal Spray For Your Kids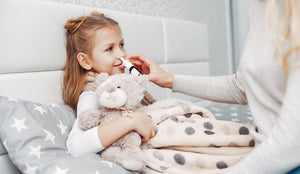 As a parent, you want nothing but the best for your children—especially when it comes to their health. One area that often causes concern is nasal congestion and allergies. With so many options available, it can be overwhelming to choose the best nasal spray for kids. This comprehensive guide will delve into what you need to know about kids' nasal sprays, including a look at immunizeLABS' offerings, which are designed to provide strong antiviral and antibacterial relief for various conditions.
What Are Nasal Sprays?
Nasal sprays are liquid medications that are administered through the nostrils. They are commonly used for conditions such as allergies, colds, and sinus infections. Nasal sprays work directly on the nasal passages, offering targeted relief, which is why they are often preferred over oral medications for nasal conditions.
Natural Nasal Sprays for Kids
Navigating the world of healthcare products for your children can be a daunting task, especially when it comes to finding safe and effective remedies for common issues like nasal congestion or allergies. While there are various over-the-counter options, many parents are turning to natural alternatives to avoid potential side effects and long-term complications associated with synthetic ingredients. 
Natural nasal sprays for kids offer a gentler approach, incorporating plant-based components and minerals to provide relief. This is where our products at immunizeLABS come into the picture. We offer two types of nasal sprays specifically designed for kids: a strong antiviral nasal spray for head colds and sinus infections, and our strongest formula for chronic sinus infections and allergies. Both our sprays contain natural ingredients like Eucalyptus Blue Mallee, Boswellia, and Ionic & Colloidal Silver 20PPM, offering a range of antibacterial, antiviral, and anti-inflammatory properties.
Breathe-Easy Nasal Spray for Head Colds and Sinus Infections
The strong antiviral nasal spray is specifically formulated to target head colds and sinus infections. It offers a potent blend of ingredients known for their antiviral, antibacterial, and anti-inflammatory properties. This spray not only alleviates symptoms but also attacks the root cause by eliminating viruses and bacteria.
Key Ingredients and Their Properties
Ionic & Colloidal Silver 20PPM: Known for its antiviral, antifungal, and antibacterial properties, this ingredient is crucial for eliminating pathogens responsible for sinus infections.

Ammi Visnaga (Khela): With expectorant and vasodilator properties, it aids in clearing out mucus and improving airflow.

Andrographis: Recognized for its antibacterial and immunostimulating properties, it boosts the immune system and fights off bacterial infections.

Horseradish: Adds antibacterial properties, assisting in the eradication of bacterial agents.

Monolaurin: This component further strengthens the formula with its antiviral and antibacterial capabilities.

Potassium Iodide: Acts as a mucolytic and antimicrobial agent, facilitating the clearing of mucus and destroying microbes.
How it Works
The spray works by first reducing the inflammation in the nasal passages, making it easier to breathe. It then proceeds to attack and neutralize pathogens, alleviating the symptoms and treating the underlying infection. The strong antiviral components ensure that the root cause is addressed, offering long-lasting relief.
Ideal For
This spray is ideal for those suffering from acute conditions such as head colds and sinus infections. It is a powerful option for quick relief and is often recommended for short-term use until the infection subsides.
Breathe-Easy RX: The Strongest Nasal Spray Formula for Chronic Sinus Infections and Allergies
This is the most potent formula aimed at individuals suffering from chronic sinus infections and persistent allergies. The blend is rich in ingredients that not only fight off bacterial and viral infections but also offer antihistamine properties to manage allergic symptoms.
Key Ingredients and Their Properties
Bauhinia Racemosa Stem Bark and Luteolin: Both components are known for their antihistamine properties, which are crucial for managing allergies.

Rosmarinic Acid: Offers natural allergy relief by inhibiting the inflammatory allergic response.

Eucalyptus Blue Mallee: With its anti-inflammatory and decongestant properties, it is essential for chronic conditions.

Xylitol and Erythritol: These inhibit biofilm formation, making it difficult for bacteria to thrive.

Blackseed Oil (Nigella Sativa): Known for its bronchodilatory and antihistaminic properties, it alleviates respiratory symptoms.

Pinellia Ternata (Thunb.) Makino: Acts as a natural decongestant with anti-inflammatory properties.
How it Works
The spray serves multiple functions—decongesting the nasal pathway, combating pathogens, and inhibiting allergic responses. It attacks biofilms where bacteria may hide and proliferate, ensuring a comprehensive treatment of chronic conditions.
Ideal For
This formula is recommended for individuals with recurring sinus infections or chronic allergic reactions. It's designed for long-term use and aims to provide relief while preventing future flare-ups.
What Makes immunizeLABS Nasal Sprays Stand Out
The strength of our nasal sprays comes from the unique blend of natural ingredients, many of which are listed above. They offer a broad range of antibacterial, antiviral, and anti-inflammatory properties. Our products also contain potent herbs like Blackseed Oil, Usnic Acid, and Piper Betel Linn, which provide additional antiviral and anti-allergy properties.
Safety and Efficacy
Safety is a top priority at immunizeLABS. All our ingredients undergo rigorous testing to ensure they meet the highest safety standards. This is backed by positive reviews from parents like Jane H., who mentioned, "I have used this for all my children ages 2, 5 and 8. I cleared it with the pediatrician before and he said it was fine and that it was a better alternative than many of the other OTC or RX options."
How to Choose the Best Nasal Spray for Your Kids
Consult a Pediatrician
Always consult a pediatrician before introducing any new health product into your child's routine. Janette, a satisfied customer, recalls, "I did ask the pediatrician about it and he said it was safe for the kids, so that's why I feel confident in recommending it for kids."
Consider the Ingredients
Always opt for products with natural ingredients. Chemical-based products may offer quick relief but often come with side effects.
Evaluate Customer Reviews
Customer reviews provide valuable insight into a product's effectiveness. Parents who have already tried a product on their children are usually the best source of unbiased information.
The Right Choice for Your Child's Nasal Care
Choosing the best nasal spray for your kids can be a challenging task, but the process becomes significantly easier when you know what to look for. Natural, safe, and effective products are always the better choice for children. With the range of potent ingredients and the stamp of approval from satisfied parents, immunizeLABS stands out as a trusted provider in this segment.
In the quest for your family's well-being, we invite you to explore the range of products designed to boost immune health and promote overall wellness at immunizeLABS. Established in the USA since 2015, we offer a variety of products across different categories including immune boosting, pain relief, cellular health, oral care, nasal care, skin care, and hair care. Make the right choice for your family today.
CHECK OUT OUT NASAL CARE FORMULAS!
Disclaimer:

The above statements have not been evaluated by the FDA. This product is not intended to diagnose, treat, prevent or cure disease or illness. Always consult with your healthcare professional before starting any supplementation program, before taking or stopping any medication, or if you have or suspect you might have any health problem. While we may provide health info, it is not a substitute for your doctor's advice.